---
Homepage | Catalog page
---
Available NOW, it's back in stock!
I try to mail orders within 24 hours of receipt on weekdays (48 hours on weekends).

Also see; sample page 1; sample page 2;
Back cover.

How to Cast Metal in Sand
Making sand molds and pouring metal!

Nearly 40 pages and over 40 diagrams (35 are in 3-D)!
(diagrams are far sharper in the booklet than on this webpage)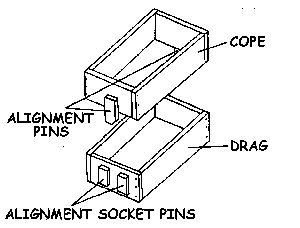 So you've seen the pictures and decided to start casting metal. Hey, maybe you've even built a flowerpot furnace and poured some ingots in cupcake pans. But now you want to make some useful castings. Maybe you want to build the Gingery lathe or cast some artistic sculptures. So you're wondering how to cast metal in sand.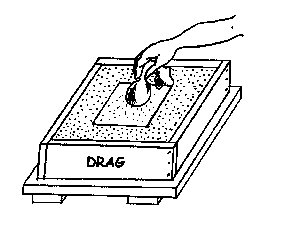 This little booklet explains all the stuff you need to know to get started casting metals such as aluminum and bronze. You can probably read this booklet in a day or two and be ready to get going. You don't want to spend a lot of time reading you want to be casting!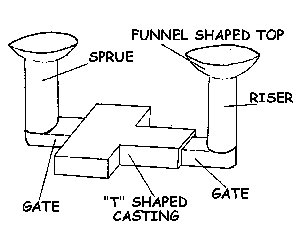 Nearly 3 dozen clear 3-D diagrams (which are much sharper than what appear on this page) and several upclose photos make sure you understand each procedure, so all you need to do is try it for yourself to get the hang of it!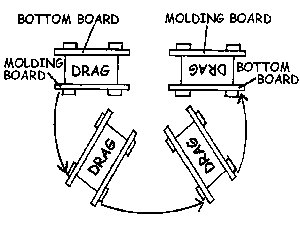 Some of the contents cover; Preparing homemade molding sand (green sand), tools you'll need, tool building, flasks, pattern making, pattern molding, shrink allowance, coping down, bedding, multi-part patterns (how I cast the lathe's pulleys), runners, venting and of course more!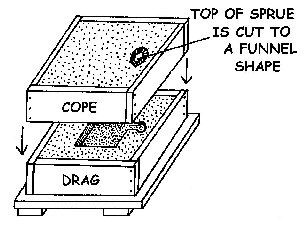 Metalcasting is not difficult you just need good instructions and some practice. This booklet will provide the instructions and you can do the rest!
5-1/2 X 8-1/2 softcover booklet 38 pages.
Heavily illustrated. $8.95 (FREE s/h in U.S.A., international is extra)
I try to mail orders within 24 hours of receipt on weekdays (48 hours on weekends).
---
Homepage | Catalog page
---
www.backyardmetalcasting.com
Page contents are copyright © by Lionel Oliver II
All Rights Reserved.